Cyzerg today placed first in Logistics Brief MVP (Most Valuable Post) award for the Inventory/Warehousing Category. The article chosen from Cyzerg's warehouse educational resources is "6 Primary Warehouses Processes & How to Optimize Them".
"We are proud and honored to be recognized for our educational resources," said Hector Eduardo, Cyzerg's Founder and CEO. "This is a culmination of our five-year journey providing exceptional warehouse technological services and educational resources through our articles page."
The MVP Awards by Logistics Brief gathers the best content from hundreds of industry thought leaders. It is judged by their audience of 42,000 readers, machine intelligence, social media, and their awards committee, which consists of Sabine Mueller (CEO, DHL Consulting), Adam Robinson (Director of Marketing, Cerasis), and Cathy Morrow Roberson (Founder and Head Analyst, Logistics Trends and Insights, LLC).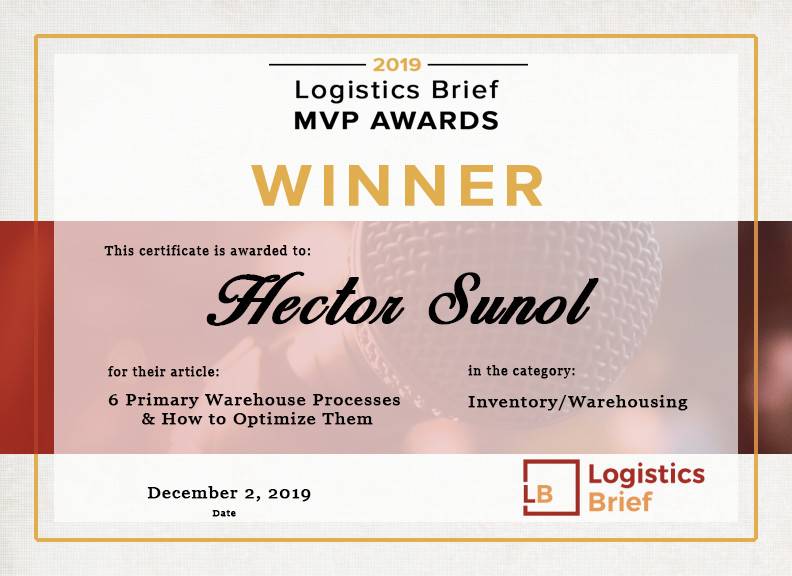 As explained by Logistics Brief, "We will recognize the posts that provide the highest value to industry professionals – useful and actionable information, that is tactical or strategic in nature, providing either long-term or short-term value."
This recognition highlights Cyzerg's committed attitude towards thought leadership and excellence. As Cyzerg builds custom warehouse technology solutions that will introduce potential differentiators, they will continue sharing their industry knowledge through their articles page as a commitment to advance the industry they take part in.
About Cyzerg
Established in 2013, Cyzerg aims to transform the warehouse industry by providing custom-tailored solutions to automate processes and increase efficiency. Today, Cyzerg has contributed to the growth of more than 174 warehouses and distribution centers. The two guiding pillars of the company's philosophy, Justice and Meritocracy, drive its diverse, global team of energetic professionals.
To learn more, visit us at cyzerg.com